We're thrilled to hear from you!
We are delighted to help you walk through the process and answer any questions you might have.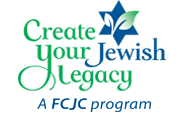 Getting Started
Chances are you already donate generously to the Jewish charitable organizations of your choice. But have you considered including those organizations in your will, so you can continue to make a difference for generations to come?
Ready to begin? Download this Commitment form and Contact your organization of choice today!
Questions to Consider:
How do I begin?
First, reflect on your Jewish passions. What is important to you about our faith and people? What work in our community do you want to support? Will your children miss a small percentage of your estate if you leave it to the Jewish community? As you shape what you want your legacy to be, keep in mind what you value now. Then, contact the organization you want to work with:
Your synagogue
Your Federation
A school
A community organization
Our Jewish cemetery
When should I start thinking about leaving a legacy?
The answer is different for everyone. Some people make a will after the birth of a child; others may wait until they receive an inheritance. Whether you already have a will or are just getting started, it's always right to think of how you want to be remembered. Get started today!
Will leaving a legacy gift impact my taxes?
While the impact of your legacy gift will be most clearly felt by the community once you are gone, you may experience tax advantages in your lifetime, and your estate and heirs may benefit from additional tax savings.
Who can help me?
Do I have to make a new will?
No, typically just a few additional sentences to your will in the form of a codicil are enough to make a Legacy Gift. You should not assume your family knows your wishes, so preparing a valid codicil with your lawyer is important. There are many ways that you can also make a legacy gift such as using your:
Qualified retirement plan
Life insurance policy
Charitable remainder trust
Charitable gift annuity