We're thrilled to hear from you!
We are delighted to help you walk through the process and answer any questions you might have.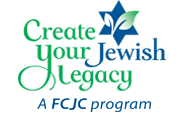 "These organizations have enabled us to connect our children to their Jewish roots and community."
"It is my hope that my gift will enable more children and families to grow as dedicated, committed and active Jews."
"Just as earlier generations in our family preserved essential Jewish values for us, we feel that we must do our part now."
"Contributing to charity is not something done by Jews simply because it is good to do. It is one of our communal responsibilities. We are commanded to do so."
"When I came into the world, I found a carob tree that others planted for me. Similarly, I plant this tree for my descendants."
"While we realize that our days are limited, the life of the Jewish community and Judaism is eternal. We take pride in supporting its future."
"Jewish values define us, and we believe the world will be a better place if we perpetuate those values through our children."
"It is my hope that future generations will benefit from my estate gift and that the legacy of our Jewish heritage is maintained for many generations."
"We hope that by creating a permanent gift to our community that we will inspire our children, grandchildren and others to do the same."
Lighting Shabbat candles with your family. Your first trip to Israel. Dancing at a family bar mitzvah.
In one way or another, you've experienced the warmth, closeness, tradition, and support of a vibrant Jewish community throughout your life. Once you are gone, who will keep these traditions thriving for future generations? Who will make sure that our community continues to help others lead meaningful lives? Jewish tradition teaches that one of the key responsibilities is to make the world a better place for our children and grandchildren. Establish Your Legacy Today.